Despite its attempts to ingratiate, One Hyde Park cannot entirely escape its underlying philosophy of segregation
'A new type of citadel has emerged," wrote Richard Rogers in 1997. "At the touch of a button, access is blocked, bullet-proof screens are activated, bomb-proof shutters roll down. The appearance of the 'wrong sort of person' triggers quiet panic". He was writing about the exclusive gated enclaves of Los Angeles, which, he warned, were "segregating rich from poor and stripping citizenship of its very meaning". Little did he know, 14 years on, that this would sound like the PR gush of his own latest project.
Long-hyped as the "the best project in the world" at "the world's most exclusive address," One Hyde Park now towers over west London's Knightsbridge junction, standing as a £1 billion monument to Gulf investment in the capital. Over the past five years it has enjoyed a frenzy of carefully choreographed rumours surrounding its SAS-designed apartments, with their bullet-proof windows and panic rooms, its underground lair with swimming pool, cinema and golf simulator, and its five-star room service on tap – most of which is true. But is its architecture good enough to match?
The form of the building is a fundamentally pragmatic response to providing as many apartments as possible on the site, while maximising views and maintaining an illusion of exclusivity. The massing is thus divided into four towers – or "pavilions" – that rise to 10, 12, 14 and back to 12 storeys as they march along Knightsbridge in a gentle curve, projected from a radius some 500m into the park. The blocks are arranged toast-rack like, perpendicular to the street, each chamfered front and back to form an elongated hexagonal plan. This allows light in and views out, and makes each floorplate feel like the tapered bow of a ship.
Rising above the tree-tops, the bulky towers resemble a fleet of power yachts, moored ostentatiously on the shore of the park.
The composition follows Rogers' trademark formula of disaggregating the building's functions – both programmatic and structural – into their component parts, allowing the whole to be articulated as an agglomeration of separate elements. Glazed circulation cores – segregating residents from services and staff – climb between the towers, overshooting their roofline to form a silhouette of staggered lanterns.
Two chunky concrete columns rise the full height of each tower's front facade, wrapping over the top and down the other side like a pair of braces, strapping the volumes together. Beams span between every two storeys, framing full-height glazing, masked by patinated copper blinkers to prevent overlooking. Exposed steel x-frames shore up the lateral facades at the point where the buildings come closest. Look carefully and you might recognise these little details as archaic heirlooms of hi-tech, watered down and made palatable for the prudish postcode.
While all this naked structure will no doubt seem radical, if not carbuncular, to its Knightsbridge neighbours, it follows in a fine pedigree of exposed concrete-frame buildings fronting on to the park, executed in various degrees of brutalism. A few doors down sits Basil Spence's uncompromising Knightsbridge Barracks of 1970, a fortress-like affair of tough, projecting volumes. Hailed by Country Life as one of Britain's "top 10 eyesores", it is refreshing for its earthy coarseness, a defensive bunker airlifted in from the battlefield.
A little further along rises HT Cadbury-Brown's Royal College of Art building of 1961, a similarly robust concoction that, as Ian Nairn said, is "meant to be used and worn and thumbed over and hugged, like the family's big woolly dog". In comparison to their rugged confidence, One Hyde Park seems more like a prissy Siamese cat, all grilles and flaps and mannered articulation. It would probably scratch you if you tried to hug it.
The bulky towers resemble a fleet of power yachts, ostentatiously moored on the edge of the park
For, unlike these rough, forceful precedents down the road, RSHP's building is trying a little too hard to be polite, to "fit in". The architect proudly describes how the material palette of granite base, copper louvres and grey metalwork is responding to its Victorian neighbours' tripartite sandwich of stone plinth, brick body and grey rooftop, while the precast concrete frame – which includes crushed limestone and mica for sparkling Daz-like whiteness – is designed to echo their double-order stone banding. Even the staggered roofline is said to be reflecting the "dynamic" context of adjacent cupolas, turrets and gables.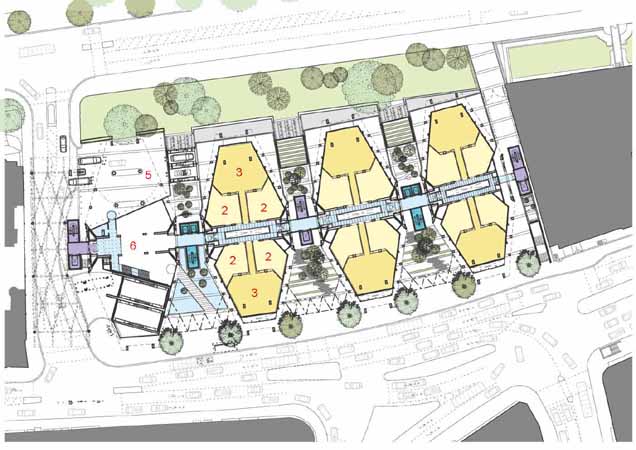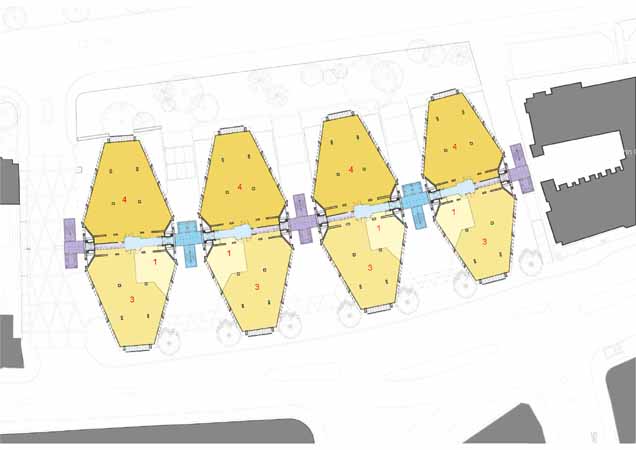 In reality, the building has taken its surroundings and filtered them through the lobotomised vocabulary of modernism-lite. Seen from the park, with its stacked racks of clunky bolt-on balconies, it could be one of the aspirational "luxury canal-side living" developments that line the waterways of Leeds, Liverpool or Leicester – only blown up slightly in scale and specification.
The similarities extend beyond first impressions; the clumsy hand of the volume house-builder remains evident on closer inspection. On the park side, the buildings rise out of a recessed basement level where the bedrooms of the lower duplexes open out on to a sunken, north-facing patio – effectively an uninviting dry moat. Above, inaccessible granite plinths look on to fenced "visual amenity" gardens, with the barren feel of a corporate plaza.
Part of the project involved realigning Edinburgh Gate, which now runs down the site's western edge, covered by a hulking concrete canopy that soars on vast steel columns to 9m at its Knightsbridge entrance. Looking like a building site support structure they forgot to remove, its turfed rooftop apparently provides another "visual amenity" for the residents, who would otherwise have to look down on a road. Nearby, Jacob Epstein's bronze sculpture, Rush of Green, has been aptly repositioned to give the impression that its desperate figures are fleeing from this monstrous roof towards the safety of the park, hotly pursued by a security guard in the guise of Pan.
'This is not a gated community' insists the architect as we walk past two vast metal gates
And what of its contribution to the street? "This is not a gated community," insists the architect, as we walk past two vast metal gates that block off, at either end, what the project's press release proudly heralds as a "new pedestrian route through the site" to connect Knightsbridge with Hyde Park, christened "Serpentine Walk".
Despite breathless protestations to the contrary, it seems that this closure might not be a one-off occurrence. "Imagine a festival day in the park," says the doorman to me, later, once I have shrugged off my chaperones. "Fifty thousand drunken people charging through the passage to get to the tube station. They'll be pissing against Nick Candy's wall in no time."
As we stroll down the Knightsbridge pavement along a clearly demarcated boundary, where honey-coloured York stone meets the uncomfortable reality of TfL standard issue concrete slabs, we come to some more gates. In between the building's ground floor retail units – a glossy triumvirate of Rolex, McLaren and the Abu Dhabi Islamic Bank – sit little "public amenity" gardens, severed from the street by 30mm-thick laminated glass screens and sealed on both sides by tall steel bars. Only the bars don't quite fit, so the gaps have been plugged with some rather more flimsy wire – one of the surprisingly ham-fisted hallmarks of the project's design and build contract.
During shop opening hours, I am assured, you will be allowed into these sanitised spaces, where you can walk along a little winding path to nowhere, or sit on a stone bench and watch passers-by – safely protected from the dangers of Kensington's streets by the thick glass shield.
"The planners wanted a continuous street frontage," says the architect, by way of explanation for these bizarre screens, as if reading another hollow mantra from the box-ticking design and access statement.
Behind the third, westernmost screen lies not a garden but a heavily guarded pedestrian entrance to the residences, a narrow route flanked on both sides by water – which must make returning home almost as exciting as crossing the bridge to the Crystal Dome at the end of the Crystal Maze. Unfortunately, we will never know – apparently a "VVIP" has bumped our appointment, and we are turned away. But, as you can see from the photos, Candy & Candy's interior design team have managed to make silk carpets, leather walls and 15 types of marble look a bit like a Forte Crest.
One Hyde Park's ideological failures should not come as a surprise, because of its singularly problematic premise: that it is a totem of exclusivity, designed by an architect whose raison d'être has always been to celebrate the very idea of civicness.
It wants to be public, but of course it cannot be. It is a gated community, squeezed into ill-fitting urbane clothing. Like a falsely smiling valet, who carries antibacterial wipes and tries not to shake hands, its forced encounters with "the public" are going to be uncomfortable at best.
What does come as a surprise, however, is that – after five years in the making and a £500 million construction cost – it is not actually very good. If I had paid £140 million, the alleged price of the top penthouse, I would expect something a bit better.
Originally published in BD, 9 February 2011